Winemaker Charity Dinner in Parker, CO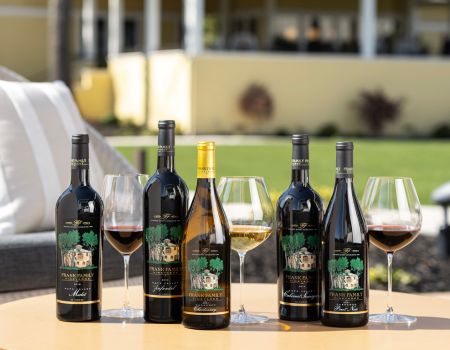 Jun 07, 2023 — 6:00 - 8:00 p.m.
Black Haus Tavern
19501 East Mainstreet
Parker, Colorado 80138
Join Frank Family Winemaker Todd Graff for an intimate evening of innovative tavern cuisine at Black Haus Tavern in the heart of the downtown Parker, CO in conjunction with Bevy's Liquor World benefitting the Colorado Pet Pantry and Frank For a Cause. Todd will guide you through a chef-driven menu featuring local, seasonal, and sustainably sourced ingredients paired with a hand-selection of exquisite Frank Family wines.
Seating is limited and reservations are required. Please call 303-568-9671 to reserve.
Price does not include tax and tip.
Dinner Menu
First Course
Grilled Asparagus
house-made ricotta, prosciutto, black pepper, sous vide egg yolk
2021 Carneros Chardonnay
Second Course
Grilled Pork Tenderoin
sweet onion ravioli, apricot brandy sauce, grilled apricot, honey yogurt, arugula salad
2021 Carneros Pinot Noir
Third Course
Pan Seared Duck Breast
english pea risotto, tomato bacon jam
2019 Napa Valley Zinfandel
Main Course
Filet of Beef
gnocchi, ramps, morel mushroom, veal demi glace
2019 Napa Valley Cabernet Sauvignon
Dessert Course
Raspberry Tart
raspberry curd, oatmeal streusel, vanilla whipped cream
About Colorado Pet Pantry
Frank for a Cause is teaming up with the Colorado Pet Pantry, whose mission is to feed Colorado pets, allowing families to increase their ability to care for pets with the goal of keeping them out of shelters and with their families.